Ashford Joy 2 Spinning Wheel
Ashford Joy 2 Spinning Wheel
FREE Shipping & Freebies
The Ashford Joy 2 spinning wheel h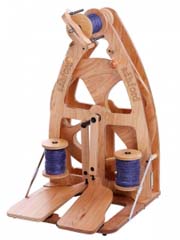 as been re-designed with a larger sliding hook flyer and larger bobbins, that hold more yarn. This means you can spin longer without having to change your bobbin. Just pinch the yarn guide and slide it to where you want your yarn on your bobbin. You will love this compact, single drive, folding spinning wheel that will go wherever you go.
The Ashford Joy 2 has a clear lacquer finish and is almost completely assembled. The ratios are 6, 8, 11 & 14:1 so you can spin a variety of yarns. This spinning wheel includes three bobbins, built in lazy kate, threading hook and instructions. Available as a single or double treadle. An optional carry bag will let you transport your Ashford Joy 2 spinning wheel safely. Durable black and tan construction with light padding for both single and double treadle versions. FREE shipping in the lower 48 states!
Did you know..... that this wheel was named after Richard Ashford's mother Joy? This spinning wheel is truly a joy to spin on!